Lawncare
No matter the season, we'll take care of your property to keep it looking pristine. If you need your lawn mowed or your property fully-landscaped, we are here for you. Our lawn care and maintenance services include:
Mowing

Lawn renovation

Edging walks and driveways
If you need more extensive work performed, we can handle it including:
Trimming of trees and shrubbery

Landscape design and installation

Bed maintenance, including:

Mulching

Edging

Weeding

Complete installation
Firewood
Hugh J. Schultz, Inc. offers a variety of seasoned mixed hardwoods. This includes, but is not limited to: hard maple, ash, cherry, hickory and oak.
How does it work?
We deliver a full or half cord. If you purchase two cords for the same delivery we offer a discount.
What is a cord?
We consider a full cord to be 128 cubic feet: stacked out it is 2 feet wide by 4 feet high by 16 feet long. A half-cord is 64 cubic feet: stacked out it is 2 feet wide by 4 feet high by 8 feet long.
How does delivery work?
Delivery within the first ten miles is $25. This is approximately from Fairview to State Street in Erie. For every five miles over that there is an additional charge of $5.00.
Do I have to call ahead?
Sometimes. During our peak season we would appreciate it if you would call two weeks in advance of your desired delivery date. Also during the winter we may have to reschedule your delivery due to changing weather conditions.
Note: We now accept credit cards along with cash or checks.
Plowing
Due to the unique geographical snowfall accumulations of Northwest Pennsylvania, we restrict our snow removal service areas according to the map below: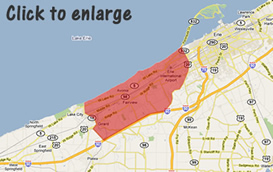 You only pay for the work, not by the season!
In an effort to maintain quality service we will not quote a seasonal contract - we only have per-time contracts